Health insurance on the trip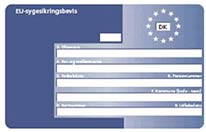 Health insurance on the journey - the EU Blue Card
As it has been up in the media lately, so you risk that you travel abroad in the EU may risk having to pay for treatment, or even be rejected. This is simply because you only have the yellow
social security card
, which should be enough, but is unfortunately rejected in several locations in Europe.
Therefore, it is a good idea to obtain an EU Blue Card for proof of health insurance before next time you go out and travel in the EU. Read more about:
health insurance abroad at borger.dk
and info on the
blue EU Health Insurance Card
.
At the local hospital in Malcesine, or Arco and Rovereto, the yellow medical card is not sufficient if you are injured. Therefore, it is a very good idea to obtain the Blue Card. Travel insurance taken out with such. European and other majors are also accepted. But without the blue card, you always risk having to pay cash, and then recover the amount from from your health insurance. The blue cards are available free on the municipal office, so why not ask for it? This corresponds to the old E111 form which made it out of health insurance in EU countries in the past.
The EU Blue card is the size of a credit card. And it may prove to be invaluable!